Distinguished Lecture: IOT, Data and Healthcare: How do we get it right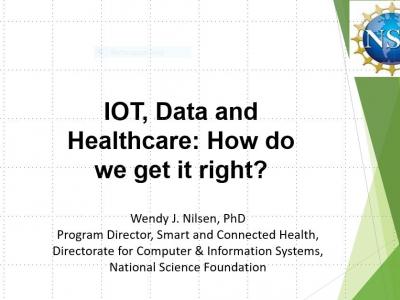 Citation Author(s):

Submitted by:

Last updated:

16 November 2017 - 11:01am

Document Type:

Document Year:

Event:

Presenters Name:
Abstract
Abstract:
Abstract
The proliferation of the Internet of Things (IOT) has changed the way that we live. Unfortunately, these changes have yet to fully impact the health and the healthcare system. New transdisciplinary approaches are needed to realize the promise of IOT, which will result in transformative change across the health domain. Fortunately, health and medicine have begun to embrace convergent approaches that involve expertise from non-traditional biomedical disciplines, such as computing and engineering. IOT is especially poised to contribute to these transformations by bringing sophisticated ubiquitous technology to partnerships in the biomedical realm. While developing the technology is advancing, methods to address the big data arising from the IOT and conventional health sources, has not even begun to be addressed. This talk will cover current challenges for IOT and health analytics and a vision of this area for the future.
Biography
Wendy Nilsen, Ph.D. is a Program Director for the Smart and Connected Health Program in the Directorate for Computer & Information Science & Engineering at the National Science Foundation. Her work focuses on the intersection of technology and health. This includes a wide range of methods for data collection, advanced analytics and the creation of effective cyber-human systems. Her interests span the areas of sensing, analytics, cyber-physical systems, information systems, big data and robotics. More specifically, her efforts include: serving as cochair of the Health Information Technology Research and Development working group of the Networking and Information Technology Research and Development Program; the lead for the NSF/NIH Smart and Connected Health announcement; convening workshops to address methodology in technology in health research; serving on numerous federal technology initiatives; and, leading training institutes. Previously, Wendy was at the National Institutes of Health.