Bitvectors with runs and the successor/predecessor problem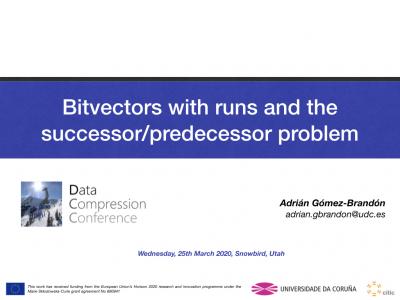 Citation Author(s):

Submitted by:

Last updated:

20 March 2020 - 3:47pm

Document Type:

Event:

Presenters:
Abstract
The successor and predecessor problem consists of obtaining the closest value in a set of integers, greater or smaller than a given value. This problem has interesting applications, like the intersection of inverted lists. It can be easily modeled by using a bitvector of size n and its operations rank and select. However, there is a practical approach [1], which keeps the best theoretical bounds, and allows to solve successor and predecessor more efficiently. Based on that technique, we designed a novel compact data structure for bitvectors with k runs that achieves access, rank, and successor/predecessor in O(1) time by consuming space O(sqrt(kn)) bits. In practice, it obtains a compression ratio of 0.04%-26.33% when the runs are larger than 100, and becomes the fastest technique, which considers compressibility, in successor/predecessor queries. Besides, we present a recursive variant of our structure, which tends to O(k) bits and takes O(log (n/k)) time.