Generalized water filling problem is implemented with the least number of flops (or lease computational complexity) possible.
Categories:
12 Views
Categories:
1 Views
Advancing over up-to-date information theoretic results that assume symmetric correlation models, in this work we consider the problem of lossy binary source coding with side information, where the correlation is expressed by a generic binary asymmetric channel. Specifically, we present an in-depth analysis of rate distortion with side information available to both the encoder and decoder (conventional predictive), as well as the Wyner-Ziv problem for this particular setup.
Categories:
4 Views
We propose in this paper a new method to compute the characteristic function (CF) of generalized Gaussian (GG) random variable in terms of the Fox H function. The CF of the sum of two independent GG random variables is then deduced. Based on this results, the probability density function (PDF) and the cumulative distribution function (CDF) of the sum distribution are obtained. These functions are expressed in terms of the bivariate Fox H function. Next, the statistics of the distribution of the sum, such as the moments, the cumulant, and the kurtosis, are analyzed and computed.
Categories:
3 Views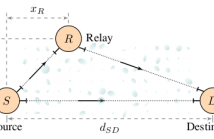 In this paper, a novel cooperative protocol for free-space optical (FSO) communication systems is proposed, wherein the performance analysis is evaluated over gamma-gamma (GG) fading channels with pointing errors. This novel relaying scheme is based on the optical path selection, source-destination (S-D) or source-relay-destination (S-R-D), with a greater value of fading gain or irradiance together with the use of repetition coding (RC), exploiting the potential time-diversity order available in the turbulent channel in order to maintain a high diversity order.
Categories:
3 Views
Complexity of linear finite-impulse-response (FIR)
equalizers is proportional to the square of the number of nonzero
taps in the filter. This makes equalization of channels with long
impulse responses using either zero-forcing or minimum mean
square error (MMSE) filters computationally expensive. Sparse
equalization is a widely-used technique to solve this problem. In
this paper, a general framework is provided that transforms the
problem of sparse linear equalizers (LEs) design into the problem

Categories:
4 Views
Categories:
1 Views
Categories:
2 Views
The Device-to-Device (D2D) communication is a promising technique to empower local wireless communications. However, without proper management it may generate interference to the existing network and degrade the overall performance. By treating each multipath as a virtual antenna, time-reversal (TR) signal transmission in a rich-scattering environment produces a spatial-temporal resonance which efficiently suppresses the inter-user interference (IUI) while boosting the signal power at the target receiver.
Categories:
6 Views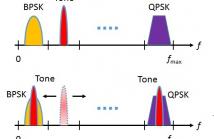 Categories:
5 Views
Pages