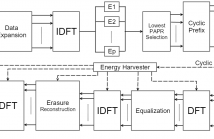 Transmitting energy and information simultaneously using orthogonal frequency-division multiplexing (OFDM) to obtain receiver energy self-sufficiency has recently been proposed.To obtain smooth energy delivery, this project analyzes a new architecture for self-sustainable OFDM transmissions that reduces the peak-to-average power ratio (PAPR) in the cyclic prefix through a frame-theoretic operation that modifies the erasure pattern selection technique.
Categories:
32 Views
Parameter estimation using quantized observations is of importance in many practical applications. Under a symmetric 1-bit setup, consisting of a zero-threshold hard limiter, it is well known that the large sample performance loss for low signal-to-noise ratios (SNRs) is moderate (2/pi or -1.96dB). This makes low-complexity analog-to-digital converters (ADCs) with 1-bit resolution a promising solution for future wireless communications and signal processing devices.
Categories:
12 Views
Categories:
Views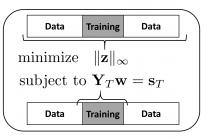 We introduce it compressed training adaptive equalization as a novel approach for reducing number of training symbols in a communication packet. The proposed semi-blind approach is based on the exploitation of the special magnitude boundedness of communication symbols. The algorithms are derived from a special convex optimization setting based on l_\infty norm. The corresponding framework has a direct link with the compressive sensing literature established by invoking the duality between l_1 and l_\infty norms.
Categories:
13 Views
We address the transmission of bivariate Gaussian sources using analog Joint Source Channel Coding (JSCC). The analog mappings are specifically designed to exploit the correlation between the source symbols. A parametric mapping based on sinusoidal functions is proposed and its performance is compared to that of the optimal non parametric mappings and other applicable analog JSCC mappings, and also to the theoretical bound.
Categories:
7 Views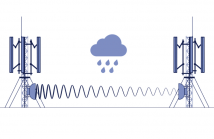 In this research we present a new approach for calibration of the Power-Law parameters, using the available commercial microwave links min/max attenuation measurements, and measurements from standard rain-gauges. This calibration process was tested in a real world scenario, and showed promising results.
Categories:
3 Views
In-band full-duplex transmission allows a relay station to theoretically double its spectral efficiency by simultaneously receiving and transmitting in the same frequency band, when compared to the traditional half-duplex or out-of-band full-duplex counterpart. Consequently, the induced self-interference suffered by the relay may reach considerable power levels, which decreases the signal-to-interference-plus-noise ratio (SINR) in a decode-and-forward (DF) relay, leading to a degradation of the relay performance.
Categories:
2 Views
Categories:
2 Views
In this paper, we consider sparse index modulation (SIM) for precoded orthogonal frequency division multiplexing (OFDM) and its generalization to multi-carrier multiple access systems. The resulting multiple access is called sparse index multiple access (SIMA). SIMA can be seen as a combination of multi-carrier code division multiple access (MC-CDMA) and SIM. Thus, SIMA is able to exploit a path diversity gain by (random) spreading over multiple carriers as MC-CDMA.
Categories:
1 Views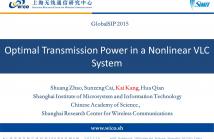 Categories:
2 Views
Pages