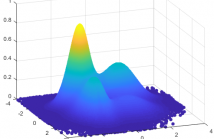 Due to the wide use of multi-sensor technology, analysis of multiple sets of data is at the heart of many challenging engineering problems. Independent vector analysis (IVA), a recent generalization of independent component analysis (ICA), enables the joint analysis of datasets and extraction of latent sources through the use of a simple yet effective generative model. However, the success of IVA is tied to proper estimation of the probability density function (PDF) of the multivariate latent sources; information that is generally unknown.
Categories:
18 Views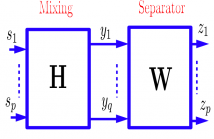 In this article, we propose a Bounded Component Analysis (BCA) approach for the separation of the convolutive mixtures of sparse sources. The corresponding algorithm is derived from a geometric objective function defined over a completely deterministic setting. Therefore, it is applicable to sources which can be independent or dependent in both space and time dimensions. We show that all global optima of the proposed objective are perfect separators. We also provide numerical examples to illustrate the performance of the algorithm.
Categories:
15 Views
Categories:
42 Views
Independent component analysis (ICA) by an information measure has seen wide applications in engineering. Different from traditional probability density function based information measures, a probability survival distribution based Cauchy-Schwartz information measure for multiple variables is proposed in this paper. Empirical estimation of survival distribution is parameter-free which is inherited by the estimation of the new information measure.

ica_slide.pdf (540)
Categories:
3 Views
In this paper, bounded generalized Gaussian mixture model (BGGMM) using independent component analysis (ICA) is proposed and applied to an existing unsupervised keyword spotting setting for the generation of posteriorgrams. The ICA mixture model is trained without any transcription information to generate the posteriorgrams which further labels the speech frames of the keyword example(s) and test data.
Categories:
5 Views