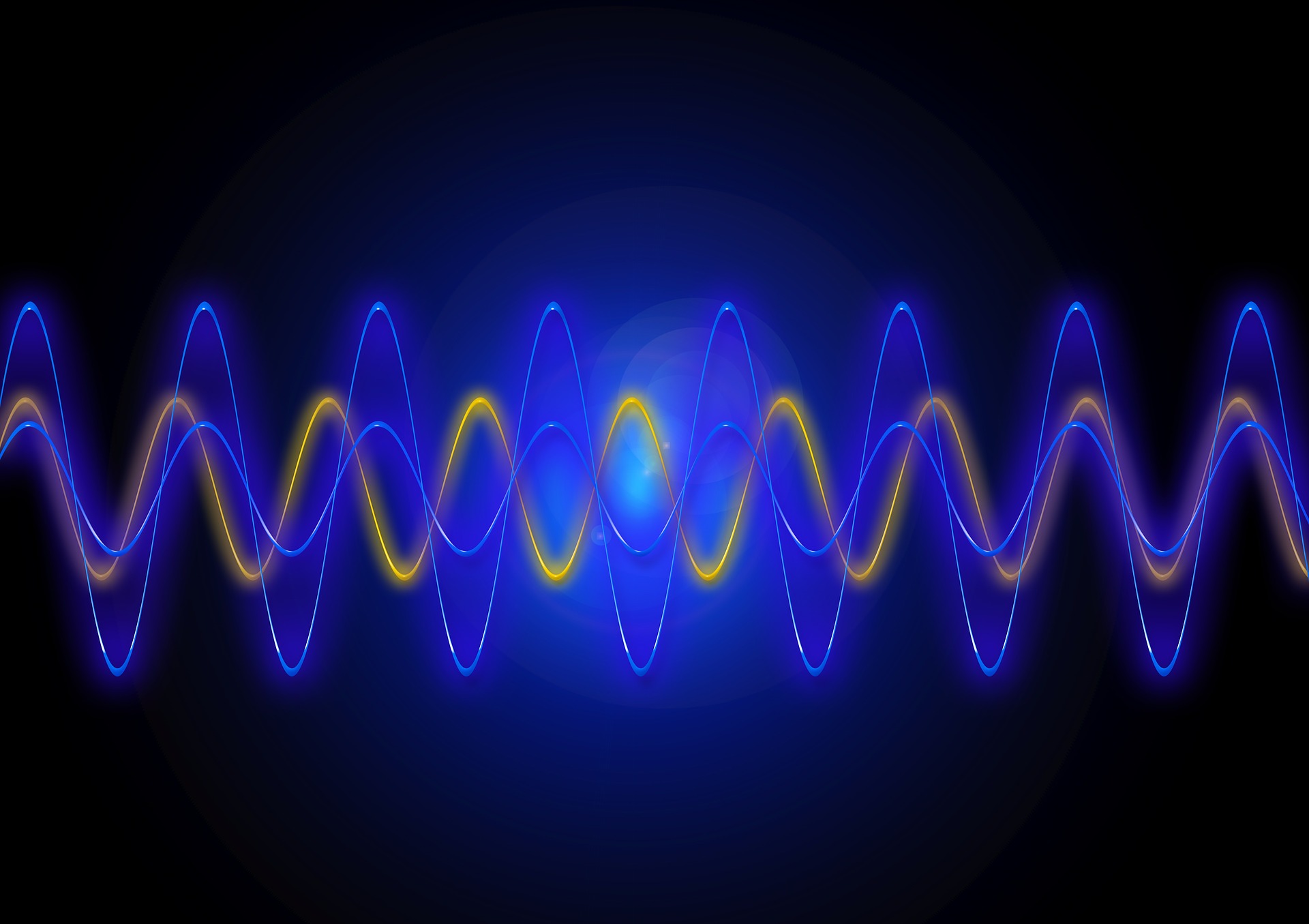 Categories:
16 Views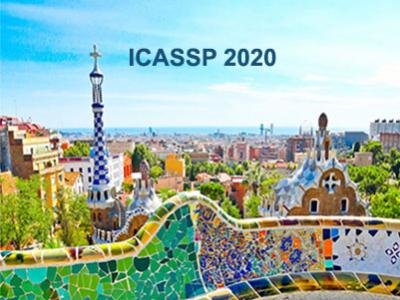 We propose a novel algorithm for adaptive blind audio source extraction. The proposed method is based on independent vector analysis and utilizes the auxiliary function optimization to achieve high convergence speed. The algorithm is partially supervised by a pilot signal related to the source of interest (SOI), which ensures that the method correctly extracts the utterance of the desired speaker. The pilot is based on the identification of a dominant speaker in the mixture using x-vectors. The properties of the x-vectors computed in the presence of cross-talk are experimentally analyzed.
Categories:
13 Views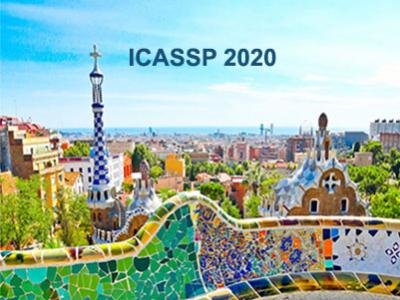 Hand-crafted spatial features (e.g., inter-channel phase difference, IPD) play a fundamental role in recent deep learning based multi-channel speech separation (MCSS) methods. However, these manually designed spatial features are hard to incorporate into the end-to-end optimized MCSS framework. In this work, we propose an integrated architecture for learning spatial features directly from the multi-channel speech waveforms within an end-to-end speech separation framework. In this architecture, time-domain filters spanning signal channels are trained to perform adaptive spatial filtering.
Categories:
109 Views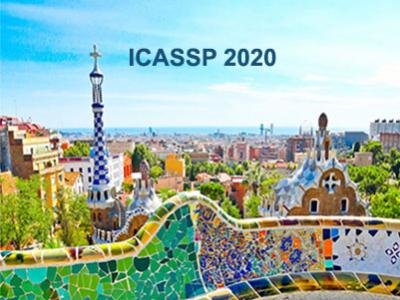 Speaker Separation refers to isolating speech of interest in a multi-talker environment. Most methods apply real-valued Time-Frequency (T-F) masks to the mixture Short-Time Fourier Transform (STFT) to reconstruct the clean speech. Hence there is an unavoidable mismatch between the phase of the reconstruction and the original phase of the clean speech. In this paper, we propose a simple yet effective phase estimation network that predicts the phase of the clean speech based on a T-F mask predicted by a chimera++ network.
Categories:
9 Views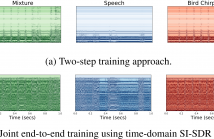 In this paper, we propose a two-step training procedure for source separation via a deep neural network. In the first step we learn a transform (and it's inverse) to a latent space where masking-based separation performance using oracles is optimal. For the second step, we train a separation module that operates on the previously learned space. In order to do so, we also make use of a scale-invariant signal to distortion ratio (SI-SDR) loss function that works in the latent space, and we prove that it lower-bounds the SI-SDR in the time domain.
Categories:
356 Views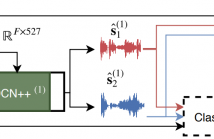 Deep learning approaches have recently achieved impressive performance on both audio source separation and sound classification. Most audio source separation approaches focus only on separating sources belonging to a restricted domain of source classes, such as speech and music. However, recent work has demonstrated the possibility of "universal sound separation", which aims to separate acoustic sources from an open domain, regardless of their class.
Categories:
366 Views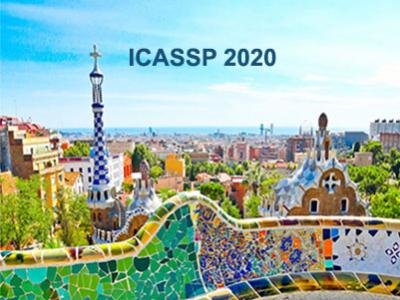 The enhancement of noisy speech is important for applications involving human-to-human interactions, such as telecommunications and hearing aids, as well as human-to-machine interactions, such as voice-controlled systems and robot audition. In this work, we focus on reverberant environments. It is shown that, by exploiting the lack of correlation between speech and the late reflections, further noise reduction can be achieved. This is verified using simulations involving actual acoustic impulse responses and noise from the ACE corpus.
Categories:
44 Views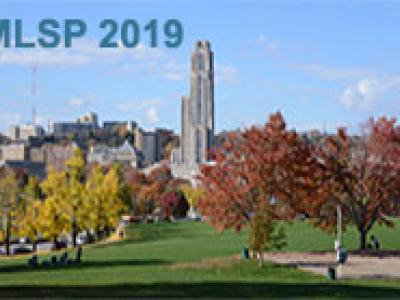 Thermal analysis using resonating micro-electromechanical systems shows great promise in characterizing materials in the early stages of research. Through thermal cycles and actuation using a piezoelectric speaker, the resonant behaviour of a model drug, theophylline monohydrate, is measured across the surface whilst using a laser-Doppler vibrometer for readout. Acquired is a sequence of spectra that are strongly correlated in time, temperature and spatial location of the readout. Traditionally, each spectrum is analyzed individually to locate the resonance peak.
Categories:
45 Views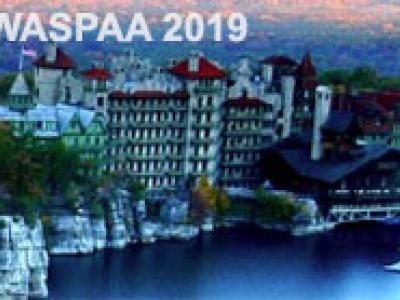 Speech enhancement is important for applications such as telecommunications, hearing aids, automatic speech recognition and voice-controlled system. The enhancement algorithms aim to reduce interfering noise while minimizing any speech distortion. In this work for speech enhancement, we propose to use polynomial matrices in order to exploit the spatial, spectral as well as temporal correlations between the speech signals received by the microphone array.
Categories:
132 Views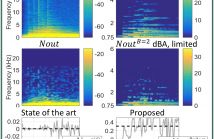 Audio processing methods operating on a time-frequency representation of the signal can introduce unpleasant sounding artifacts known as musical noise. These artifacts are observed in the context of audio coding, speech enhancement, and source separation. The change in kurtosis of the power spectrum introduced during the processing was shown to correlate with the human perception of musical noise in the context of speech enhancement, leading to the proposal of measures based on it. These baseline measures are here shown to correlate with human perception only in a limited manner.
Categories:
134 Views
Pages