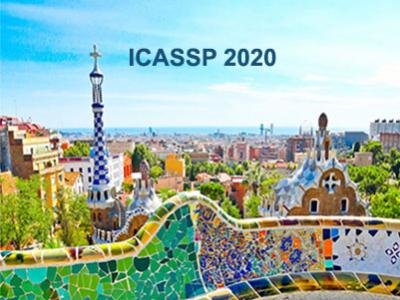 This paper presents a novel 3DoF+ system that allows to navigate, i.e., change position, in scene-based spatial audio content beyond the sweet spot of a Higher Order Ambisonics recording. It is one of the first such systems based on sound capturing at a single spatial position. The system uses a parametric decomposition of the recorded sound field. For the synthesis, only coarse distance information about the sources is needed as side information but not the exact number of them.
Categories:
59 Views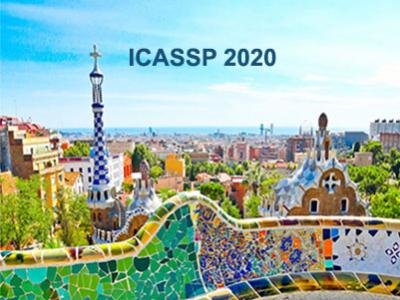 This paper investigates several aspects of training a RNN (recurrent neural network) that impact the objective and subjective quality of enhanced speech for real-time single-channel speech enhancement. Specifically, we focus on a RNN that enhances short-time speech spectra on a single-frame-in, single-frame-out basis, a framework adopted by most classical signal processing methods. We propose two novel mean-squared-error-based learning objectives that enable separate control over the importance of speech distortion versus noise reduction.
Categories:
58 Views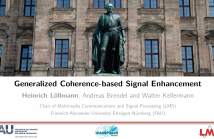 This contribution presents a novel approach for coherence-based signal enhancement. An estimator for the coherent-to-diffuse ratio (CDR) is devised, which exploits the concept of generalized magnitude coherence and thus, unlike common state-of-the-art schemes, can simultaneously take advantage of more than two microphones. Moreover, the speech enhancement by CDR-based spectral weighting is not performed as a post-filtering step, but by enhancing the most appropriate microphone signal.
Categories:
18 Views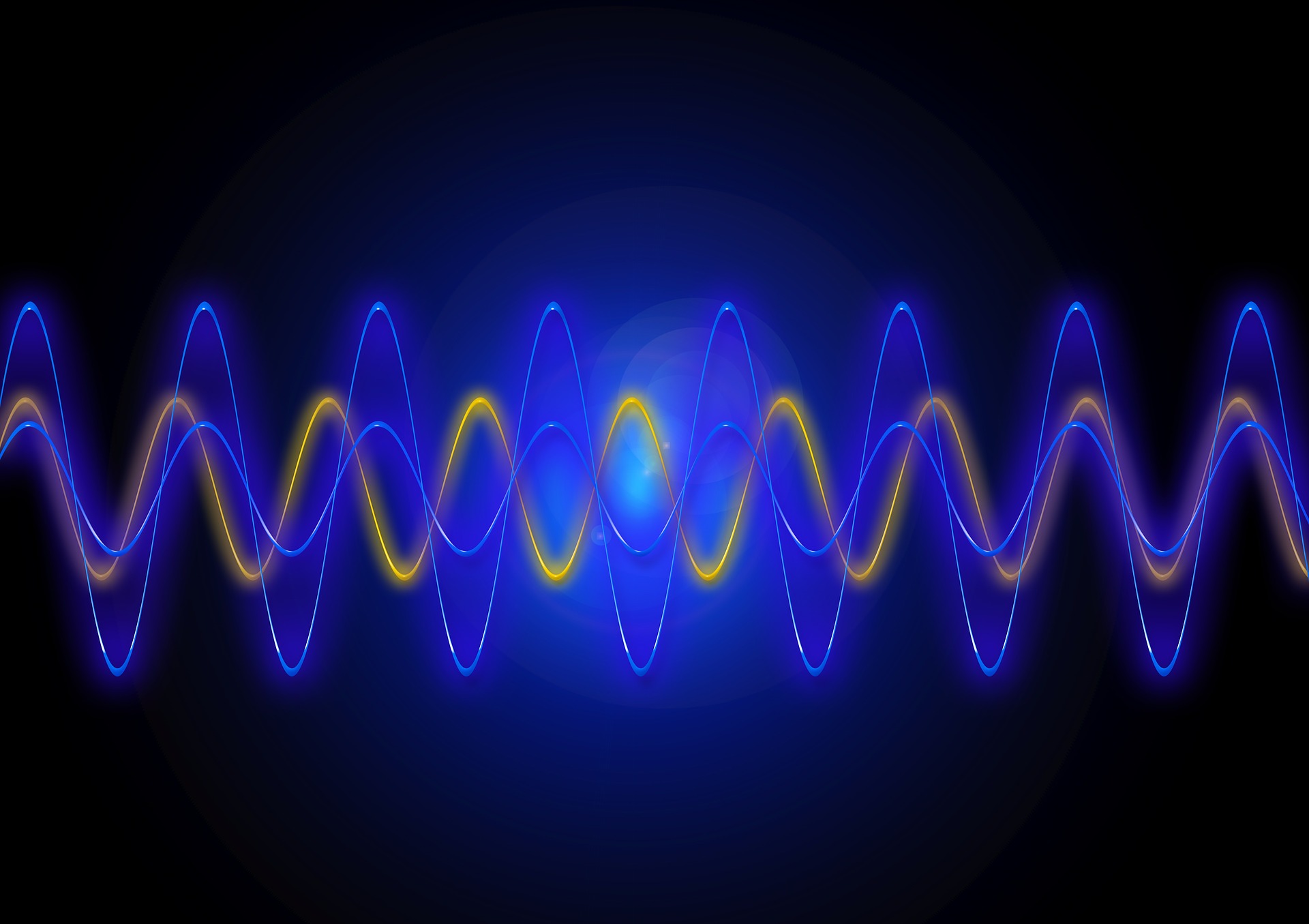 Categories:
10 Views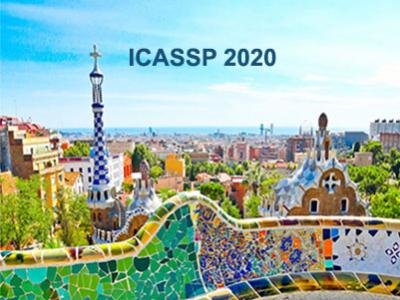 We propose a novel algorithm for adaptive blind audio source extraction. The proposed method is based on independent vector analysis and utilizes the auxiliary function optimization to achieve high convergence speed. The algorithm is partially supervised by a pilot signal related to the source of interest (SOI), which ensures that the method correctly extracts the utterance of the desired speaker. The pilot is based on the identification of a dominant speaker in the mixture using x-vectors. The properties of the x-vectors computed in the presence of cross-talk are experimentally analyzed.
Categories:
11 Views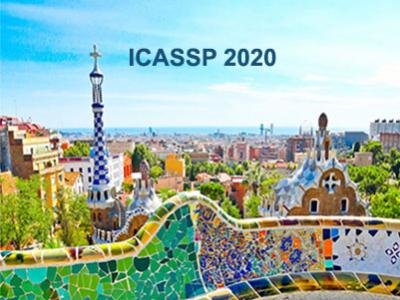 Hand-crafted spatial features (e.g., inter-channel phase difference, IPD) play a fundamental role in recent deep learning based multi-channel speech separation (MCSS) methods. However, these manually designed spatial features are hard to incorporate into the end-to-end optimized MCSS framework. In this work, we propose an integrated architecture for learning spatial features directly from the multi-channel speech waveforms within an end-to-end speech separation framework. In this architecture, time-domain filters spanning signal channels are trained to perform adaptive spatial filtering.
Categories:
96 Views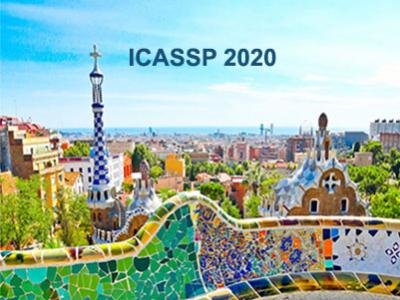 Speaker Separation refers to isolating speech of interest in a multi-talker environment. Most methods apply real-valued Time-Frequency (T-F) masks to the mixture Short-Time Fourier Transform (STFT) to reconstruct the clean speech. Hence there is an unavoidable mismatch between the phase of the reconstruction and the original phase of the clean speech. In this paper, we propose a simple yet effective phase estimation network that predicts the phase of the clean speech based on a T-F mask predicted by a chimera++ network.
Categories:
8 Views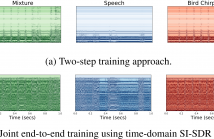 In this paper, we propose a two-step training procedure for source separation via a deep neural network. In the first step we learn a transform (and it's inverse) to a latent space where masking-based separation performance using oracles is optimal. For the second step, we train a separation module that operates on the previously learned space. In order to do so, we also make use of a scale-invariant signal to distortion ratio (SI-SDR) loss function that works in the latent space, and we prove that it lower-bounds the SI-SDR in the time domain.
Categories:
264 Views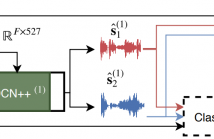 Deep learning approaches have recently achieved impressive performance on both audio source separation and sound classification. Most audio source separation approaches focus only on separating sources belonging to a restricted domain of source classes, such as speech and music. However, recent work has demonstrated the possibility of "universal sound separation", which aims to separate acoustic sources from an open domain, regardless of their class.
Categories:
288 Views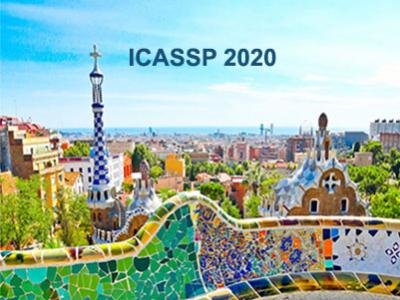 The enhancement of noisy speech is important for applications involving human-to-human interactions, such as telecommunications and hearing aids, as well as human-to-machine interactions, such as voice-controlled systems and robot audition. In this work, we focus on reverberant environments. It is shown that, by exploiting the lack of correlation between speech and the late reflections, further noise reduction can be achieved. This is verified using simulations involving actual acoustic impulse responses and noise from the ACE corpus.
Categories:
42 Views
Pages