Categories:
2 Views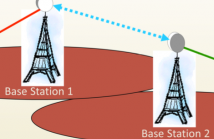 Atmospheric conditions are known to affect the Received Sig- nal Level (RSL) in commercial microwave links (MWLs), that operate at frequencies of tens of GHz. Study of these ef- fects is of great importance both for communication engineers and for environmental monitoring. In this paper we study the phenomenon of a wet antenna. During periods of high rela- tive humidity (RH), a thin layer of water may collect on the outside cover of the microwave units, resulting in increased signal attenuation. Here, we focus on the estimation of the signal power loss caused due to this phenomenon.
Categories:
17 Views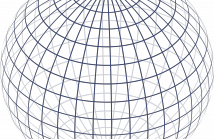 In many estimation problems of interest the unknown parameters reside on spherical manifolds. As most common filtering algorithms assume that parameters have Gaussian prior distributions, their application to such problems leads to suboptimal performance. In this letter, we propose a model in which the unknown unit-norm parameter vectors have Fisher-Bingham (F-B) prior distributions.
Categories:
9 Views
We consider an oligopoly dynamic pricing problem where the demand model is unknown and the sellers have different marginal costs. We formulate the problem as a repeated game with incomplete information. We develop a dynamic pricing strategy that leads to a Pareto-efficient and subgame-perfect equilibrium and offers a bounded regret over an infinite horizon, where regret is defined as the expected cumulative profit loss as compared to the ideal scenario with a known demand model.
Categories:
5 Views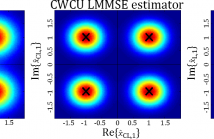 Biased estimators can outperform unbiased ones in terms of the mean square error (MSE). In this work we treat all estimators in the Bayesian framework, where the best linear unbiased estimator (BLUE) fulfills the so called global conditional unbiased constraint. Recently, component-wise conditionally unbiased linear minimum mean square error (CWCU LMMSE) estimators have been introduced.
Categories:
9 Views
Cooperative localization plays a key role in location aware service of wireless networks. However, the statistical-based estimator of network localization, e.g., the maximum likelihood estimator (MLE) or the maximum a posterior (MAP) estimator, is commonly non-convex due to the nonlinear measurement function and/or the non-Gaussian disturbance, which complicates the localization of network nodes. In this paper, a novel particleassisted

Categories:
1 Views
An extended version of the paper has been submitted to IEEE Transactions on Signal Processing (TSP):
B. Mamandipoor, D. Ramasamy, U. Madhow, "Newtonized Orthogonal Matching Pursuit: Frequency Estimation over the Continuum,"arXiv preprint arXiv:1509.01942, 2015.
A MATLAB implementation of the algorithm can be found here:
https://bitbucket.org/wcslspectralestimation/continuous-frequency-estima...
Categories:
21 Views
This paper considers the detection of possible deviation from a nominal distribution for continuously valued random variables. Specifically, under the null hypothesis, samples are distributed approximately according to a nominal distribution. Any significant departure from this nominal distribution constitutes the alternative hypothesis. It is established that for such deviation detection where the nominal distribution is only specified under the null hypothesis, Kullback-Leibler distance is not a suitable measure for deviation.
Categories:
1 Views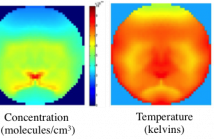 This is an overview presentation about developing accurate prior models that can capture non-Gaussian characteristics of images. The slides use tunable diode laser absorption tomography (TDLAT) as an application to show the results.
For more information, please check out the publication at IEEE Xplore:
Zeeshan Nadir, Michael S. Brown, Mary L. Comer, Charles A. Bouman, "Gaussian Mixture Prior Models for Imaging of Flow Cross Sections from Sparse Hyperspectral Measurements" , 2015 IEEE GlobalSIP Conference, Dec 14-16
Categories:
1 Views
The paper considers the composite detection problem where both detection and parameter estimation are of primary interest. Based on a Neyman-Pearson type of formulation, our goal is to find the joint detector and estimator that minimizes a decision-dependent Bayesian estimation risk subject to the detection error probability constraints. The optimal joint solution not only yields lower Bayesian estimation risk compared to the conventional method, which combines the likelihood ratio test and the Bayesian estimator in sequence, but

Categories:
2 Views
Pages